Welcome to the Multicultural Services Centre of Western Australia.
The Centre has been providing a range of programs and services to migrants and refugees for three decades and considers this website a useful vehicle to further enhance its capacity to address the unmet needs of migrants and refugees. The website provides you comprehensive information about the various programs and services that the Centre provides as well as on the Centre's organisational structure and some operational matters. It also provides links to other organisations that offer a range of services that are of relevance to migrants and refugees.
The website makes provision for people to contribute financially to support the services we provide. We look forward to many using this facility to support the Centre's operations and we thank them in advance for the same. The Multicultural Shop is another facility that will soon be incorporated in our website to provide opportunities for migrants and refugees to sell their goods. Ten percent of the sales of all items will go towards the operations of the Centre. We urge those who wish to support the services we provide to use this facility to advertise items for sale and to buy advertised items.
Volunteers play an important role in ensuring MSCWA consumers receive an excellent service and you can register your interest via the website. Suggestions for enhancing the accessibility and the information provided via this website are most welcome.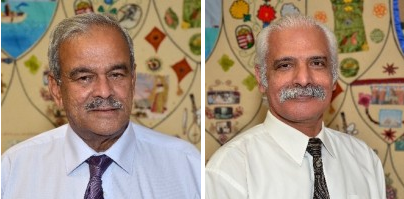 Dr. Prabha Karan Krishnan – Chairperson (Left) Ramdas Sankaran OAM – CEO (Right)
| | |
| --- | --- |
| Position | Name |
| Chairperson | Dr P Krishnan MBBS |
| Deputy Chairperson | Ms. Sheila Rajan |
| Treasurer | Mr. Sam Tassone |
| Secretary | Ms. Kim Luby |
| Member | Ms. Kathy Ursich OAM |
| Member | Mr. Patrick Tan |
| Member | Ms. Jenny Au Yeong |
| Member | Dr Zarrin Siddique |
| Member | Cr Yaso Ponnuthurai |
| | |
| | |
| | |
|  Ex-Officio | Ramdas Sankaran, OAM (CEO) |