Jobs & Skills Centre (JSC)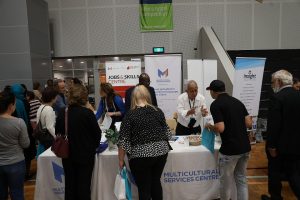 The Multicultural Services Centre of WA (MSC) has been providing a range of employment, education and related services for people of Culturally and Linguistically Diverse (CaLD) backgrounds since its inception in 1980.
MSC is the specialist Jobs & Skills Centre (JSC) for people from CaLD backgrounds.
The Jobs & Skills Centre assists eligible clients to access education, training and employment opportunities as outlined below.
How Can We Help?
career guidance and developing realistic and achievable career action plans for both short and long term;
advice about the current and future job market;
development of resumes and applications;
guidance on effective job search methods;
interview skills and tips;
information and referrals to relevant education and training providers;
assistance with acquiring relevant licences and certifications;
assistance with recognition of overseas qualifications;
access to job listings on MSC's and other Jobs Boards;
finding work experience, voluntary work and other opportunities to build experience;
assistance with obtaining apprenticeships and/or traineeships; and
assistance with accessing micro-business training and incubation.
These services are available from our offices at Mirrabooka, Morley, Cannington, and North Perth to all eligible CaLD clients, irrespective of their visa/residency or employment status.
Register Here
for your Free Jobs & Skills
Counselling Appointment
Employers and Businesses
MSC's Jobs & Skills Centre provide advice and assistance to support employers and business owners. We can help, if you are looking for:
recruitment assistance, including for apprentices and trainees;
information on training solutions and services that can be customised to meet enterprise-specific needs;
advertising employment opportunities on our jobs board; and
advice and resources to support your workforce planning.
Our JSC team is happy to answer any questions you have via phone on (08) 9254 9992 or via contact form here.
"I am very excited to share the good news with you. I finally reached my favourite job as a site engineer working in Kwinana Waste to Energy plant. I just finished the contract with my employer and will start in August.
Thanks for your great help with my resume and interview skills. Using these powerful "weapons", I got several good opportunities and two offers both from influential global engineering companies.
Your help is very meaningful to those new immigrants like me. It helps me to rebuild my confidence and get familiar with Aussie career customs."
"I just wanted to say thank you for providing me with such great information and templates to update my CV and also create a cover letter. You've sent me some great and useful links and information which will help me a lot to make myself a strong resume. I would also like to thank the staff for referring me to you and providing me with such great service."
"Firstly, thank you very much for your concerted efforts assisting me to start my professional career as a support worker.  Definitely It has granted me a great opportunity to prove my knowledge and abilities and will help me to improve my achievements as well. Herewith I would like to express my special thanks."